Brighten Up Your Home With Natural Light
Letting in natural light can make any home feel more comfortable. Sunlight provides something very welcoming during the summer, but it can also help on those long winter days. There are several ways you can add more natural light when remodeling or building a custom home. Here's a look at some of the best ways to let in more sunlight.
I. Glass Doors
Whether you want to add a glass door as your front door or add in glass sliding doors in the back of your home, glass doors help to let in more light. With glass entry doors, you set the tone with a first impression full of light. The entry space will no longer be so dark and you will be able to enjoy the sunlight coming into the home from the front.
In addition, you can add glass doors at other entry points and even throughout the house. Instead of having solid sliding doors to close off rooms, use glass doors so sunlight can filter throughout the entire home.
II. Open Up the House
When you open up the floor plan of the home, more light can easily filter throughout the house. Taking down unnecessary walls is a great way to allow more sunlight into your home. Those walls could be blocking the light from going into the dining or living room. An open floor plan offers the ability for all windows to provide the maximum amount of sunlight throughout the entire home.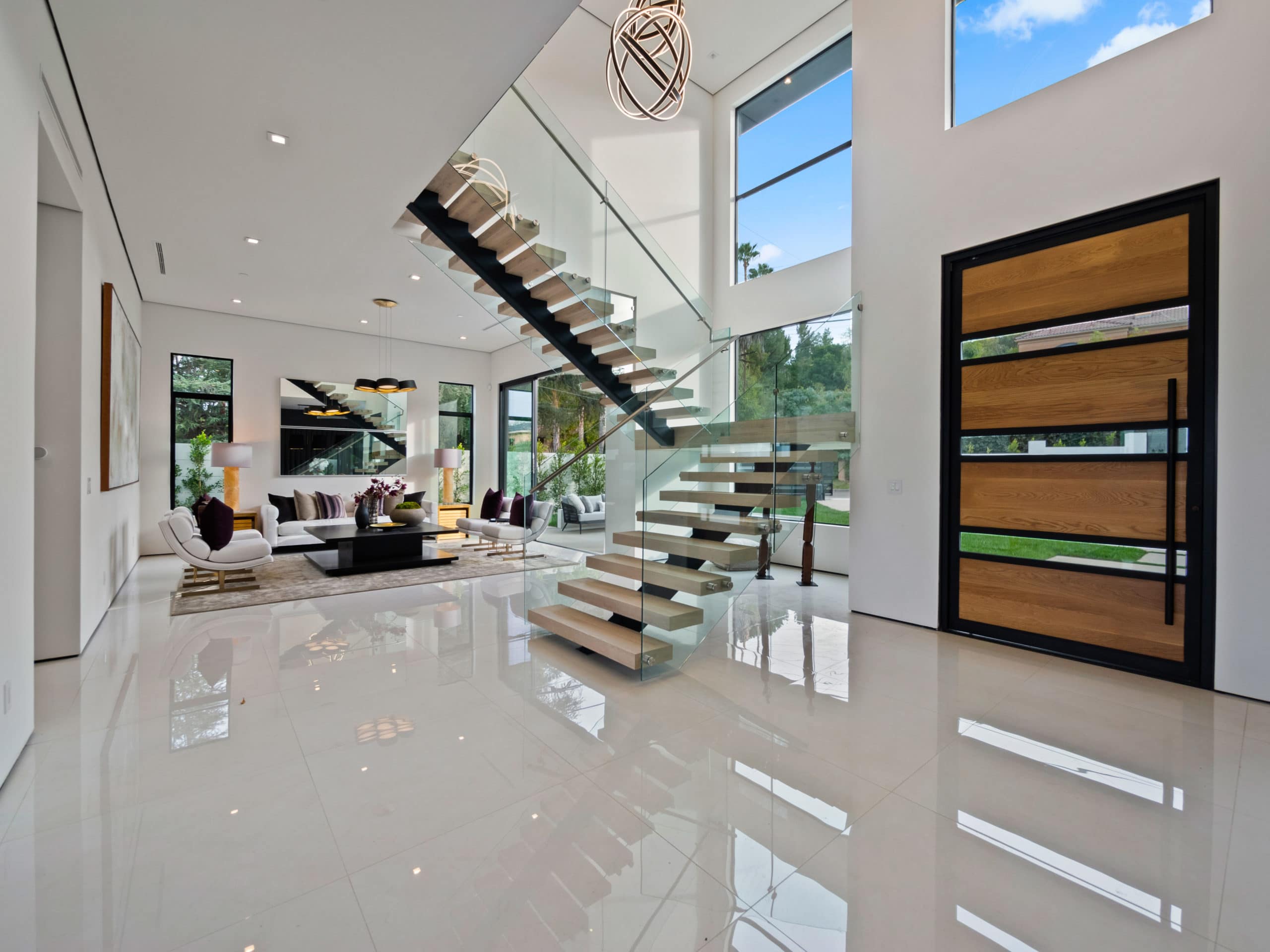 III. Create Wider Doorways & Hallways
When you cannot knock down a wall or you don't want to, you can widen the doorway or hallway to allow more light in. No longer do you have to be stuck with narrow, dark hallways with no natural light. With wider doorways and hallways, more light can filter through the home.
IV. Add More Windows
Of course, the more windows you have, the more light you will be able to let into your home. This is something to consider when designing a custom home, but you can also add windows when remodeling your home. Window additions give you the option to create a room full of sunlight and eliminate dark areas in the home.
Southern-facing windows are the best as they will let in the most light, but you can also get good light from east- and west-facing windows. It may be a good idea to have your windows tinted or have shades installed to ensure the heat doesn't get in during the summer, however. North-facing windows are not the best idea, as they will cause you to lose the most heat during the winter.
In addition to adding windows, you can take care of the windows your home already has by keeping them clean, both inside and out, trimming trees and shrubs around them, and even installing new windows. Sometimes, new windows can make a big difference and eliminating tree branches keeping the light from getting in can help brighten up any room.
V. Use Tubular Daylighting Devices and Skylights
It's very easy to incorporate skylights or tubular daylighting devices into your custom home design. However, you can have these installed as a part of a remodel, as well. Skylights are very popular in many areas of the home and can help to brighten up the kitchen, living space, or even a bedroom. You don't have to sacrifice privacy for these, either.
Tubular daylighting devices are smaller than skylights and have reflective cylinders. They help to let light in without the glaring beams coming in like a spotlight. Skylights, on the other hand, are larger and will allow the light to cascade throughout the room. Both can be used to let in more natural light.
VI. Use Transoms Above Doors
Transoms allow those with tall ceilings to take advantage of those ceilings and let in more sunlight. They are installed above doors as basically a window to let in more light. Some transoms have hinges, which can allow you to open them on hot summer days and circulate the air better.
Letting more sunlight into your home doesn't have to be difficult. While more windows and glass doors may provide the easiest ways to get more light in, you can also use transoms, skylights, and a few other tricks to incorporate more natural light throughout your home.
Sunlight benefits us throughout the entire year and we need it most when we feel those winter blues hitting us. With the right remodel or custom home design, you can let in more sunlight throughout the entire year.
Connect
Let's talk about your project
We provide best-in-class construction services with honesty, a passion for the creative process and a win-win philosophy.